March Postmortem
Solange! Satan! Substack!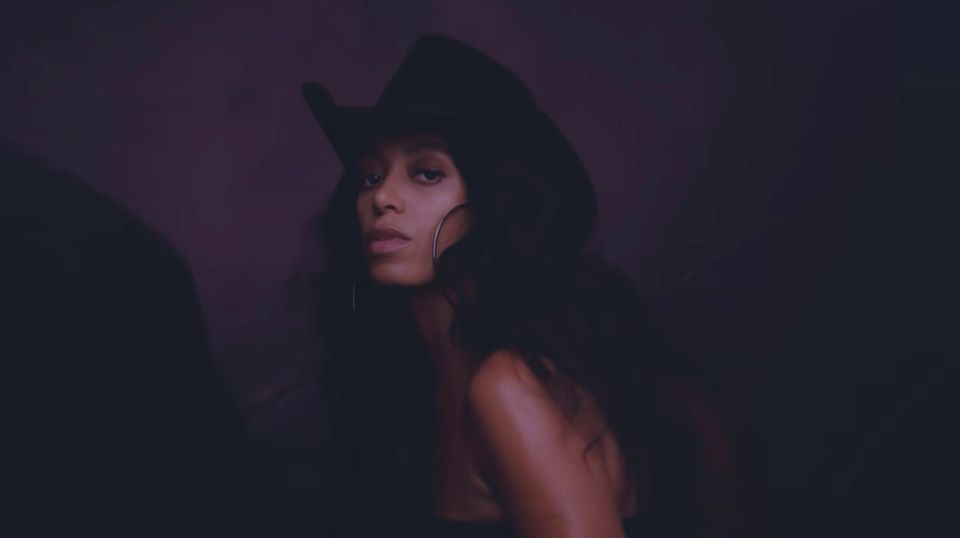 First things first, I'll be spending the next little while moving this newsletter from Substack over to a platform called Ghost. There's literally nothing to do on your end, since everything and everyone will be transferred over, and things will look practically the same the next time I appear in your inbox. I spent the second half of March monitoring the conversation surrounding Substack and its (non-)approach to content moderation (which you can catch up on in part here, and here, and here), and, while researching my alternatives, realized that Ghost is probably a better fit for me in the long run—infrastructure-wise, but also in terms of my and my readers' values. I promise that my silence on the matter thus far has been about me getting my ducks in a row and not me ignoring it; there are, and I'm very lucky to be able to say this next part, too many of you now to do anything impulsive. Sorry that I didn't send anything out in March, and hopefully it's okay if I ask for a bit more of your patience while I sort this next part out. Feel free to send any questions my way in the meantime.
---
People seemed to like this format the last time around, so: here are some thoughts that are too long to be tweets but too short and/or pointless enough to warrant their own instalments. I have a few longer pieces of writing up my sleeve, which I hope to have to you as soon as I figure everything out. I really just want to write!
---
I knew that something was up with the director's cut of Solange's When I Get Home (2019), the film released to accompany her album of the same name, when my friend very sadly posted about it having disappeared from YouTube in February. That something turned out to be its re-release on Criterion Channel on March 1, for which it's been remastered. There were some predictable comments made in response to this news—some expressing bewilderment at Criterion for hosting it in the first place (I'm unclear on whether that's because it's a long-form music video project, or a Solange project, or both), others using the partnership as evidence that she's a more authentic artist than her older sister whose name is escaping me right now (in all cases, singling Disney+ out and ignoring the other streaming services that host the latter's films), and still other annoying opinions slash arguments that I can poke holes in.
Anyway, I'd love to go back and tell my 20-year-old undergrad film student self that Solange would not only direct a short in 2019, but later have it given this sort of distinction/industry validation. Without getting too much into genre right now, since it's a holiday, I believe that it's the only project currently on Criterion Channel—aside from perhaps Richard Lester's A Hard Day's Night (1964), starring the Beatles—that you might call a visual album. (There are concert films, but that's not really what I'm talking about.) The original 33-minute cut of When I Get Home was released through Apple Music in early 2019, and then a 41-minute director's cut appeared on YouTube that December—in part to get more eyes on it, I'm sure. But more than six months later, it still hadn't cracked a million YouTube views (even though individually packaged clips from the film have performed well on the platform). So while there's certainly an argument to be made that the Criterion deal makes the film overall less accessible to the public, said public spent almost two years hardly accessing it. I, for my part, watched it twice in March, both times drinking brown liquor.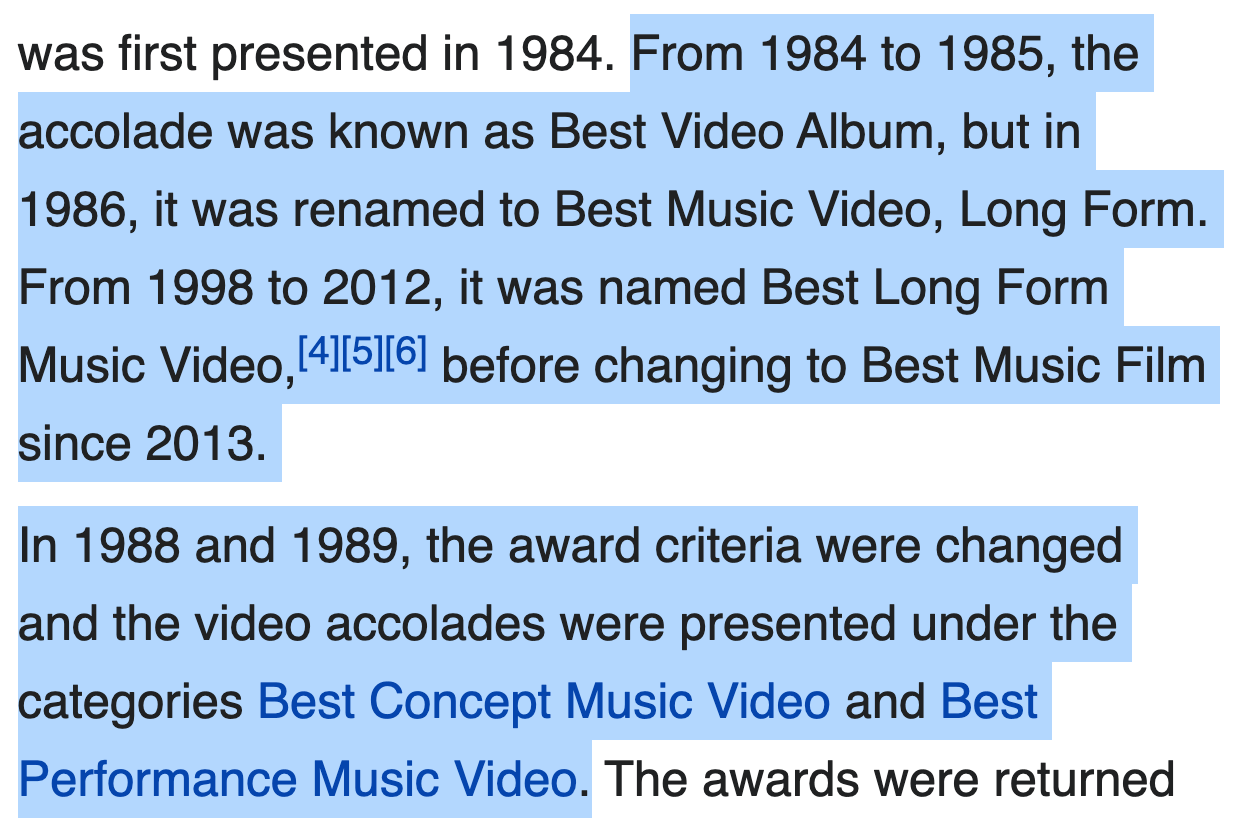 I'd like to talk about the particular uselessness of the Grammys' visual categories for a second. The Recording Academy has just two awards for things you can look at, and both are relegated to the pre-show. The first is Best Music Video, which is exactly what it sounds like: five music videos are chosen to compete against each other out of likely hundreds of workable submissions, and they're somehow meant to encapsulate the entire year in music videos. The award is also genre-agnostic, meaning that Radiohead competes against Erykah Badu, and Feist competes against Johnny Cash, and Aerosmith competes against Missy Elliott (all real examples)—even though different music genres sometimes have vastly different video conventions and visual languages. The award is akin to Best Picture at the Oscars in its well-meaning but flawed catch-all approach; one crucial difference, I guess, is that a Best Picture-losing film may have had a chance to win something else earlier in the night.
This year's nominees included Harry Styles's "Adore You"; Future and Drake's "Life Is Good"; Anderson .Paak's "Lockdown"; Woodkid's "Goliath"; and Beyoncé, Blue Ivy, SAINt JHN, and WizKid's "Brown Skin Girl." I didn't have any strong opinions going into the pre-show about who deserved to win the award this year—Beyoncé et al. won, which I think was ultimately a good choice, and not just because it's me writing this—but, like every year, the list of nominees surprised me when I first saw it. The contenders in this category often feel arbitrarily chosen as far as what I remember of the previous year in music videos, and there's always at least one where the Grammys seem to get the artist right but the video wrong (which I realize might also be the artist submitting their most viable contender instead of their best). A few complaints from this year: the complete absence of the Weeknd, who put out some of the eligibility period's most ambitious, interesting, and cohesive work in the form of his After Hours videos, was practically criminal. While "Adore You" is probably the most expensive video from Harry Styles's Fine Line, I personally wouldn't call it the best. I'm also generally speaking puzzled by all the love for "Life Is Good," which you might recall was a Video of the Year nominee at the VMAs in August; I think it's fun, and that Drake clearly misses his teen soap days, and… that's pretty much it.
The visual category that more urgently needs breaking up is arguably Best Music Film. Since its inception in 1984, the award has seemingly had constant identity crises to keep up with the sort of long-form visual work that comes out of the music industry. Aside from Best Music Film, it's been called *checks notes* Best Video Album; Best Music Video, Long Form; Best Concept Music Video; and Best Performance Music Video. In pivoting to Best Music Film, as it did in 2013, the Recording Academy had opted to go broader with the category instead of introducing any new ones, deciding that wildly different long-form projects should just continue competing against each other—90-minute biographical documentaries, 150-minute concert films, 60-minute visual albums, 15-minute music films, etc. The nominees tend to be all over the place. But while seemingly anything goes in terms of nominations, the Academy hasn't actually awarded anything that's not a traditional music documentary or concert film since 1993, when Annie Lennox won for her Diva (1992) visual album. This has been true regardless of the quality of the work in question. It's why Beyoncé's Lemonade [2016] lost to Ron Howard's The Beatles: Eight Days a Week [2016], but Beyoncé's Homecoming [2019] won over Paul Thomas Anderson's Anima [2019].) At the very least, there should be one category for concert films and documentaries, and another for longer-form music video work; these are worlds apart, and the system is currently set up to pay dust to anything even remotely experimental or boundary-pushing.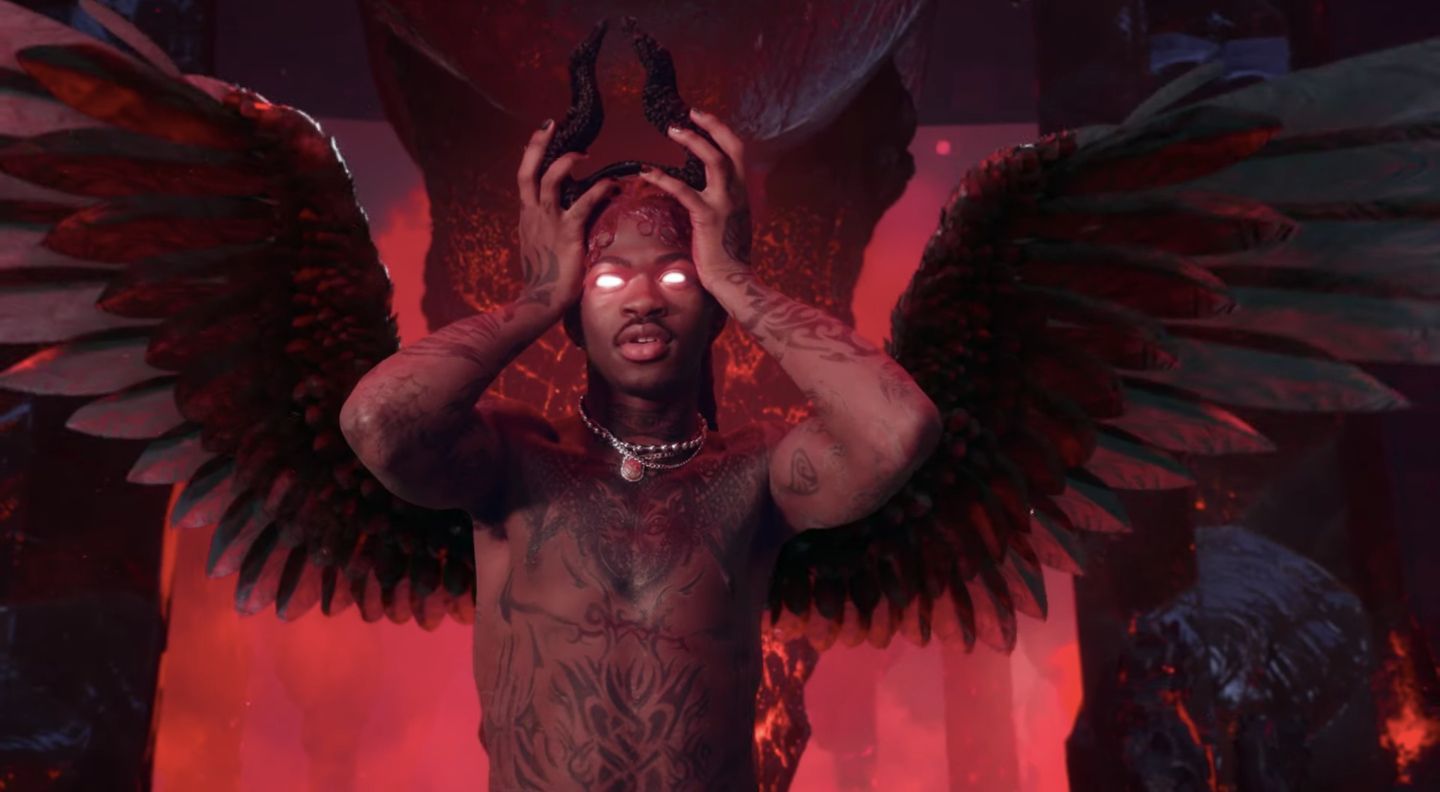 I've felt very grateful for Lil Nas X since the release of his video for "MONTERO (Call Me By Your Name)," which he co-directed with Tanu Muino—one of relatively few women currently directing music videos of this scale, who also recently helmed Cardi B's "Up." As I tweeted the other day, there are only a handful of artists regularly putting out the sort of music video work that will have more than one person on my timeline talking about it, and an even more pathetic handful putting out the sort of work where the discourse lasts more than 24 hours, let alone a whole week (and counting). I tend to gravitate towards stuff that's clearly interested in shaking the table, and have loved reading smart takes on the actual content of the video. My favourite so far is Craig Jenkins's for Vulture, which puts it in conversation with other industry moments that have elicited similar performative outrage from conservative pundits (including Lady Gaga's "Judas" [2011] video, which turns 10 in May).
Everyone reading this should also watch FKA twigs's "Cellophane" (2019), from which Lil Nas X's team took more than a little inspiration. (The two videos share a choreographer, and there seems to have been early talk of them sharing a director.) There's reportedly zero beef between the two artists, who chatted this week over the phone. As Lil Nas X wrote a couple days ago, "i was not aware that ["Cellophane"] would serve as a major inspiration for those who worked on the effects of my video. i want to say thank u to twigs for calling me and informing me about the similarities between the two videos, as i was not aware they were so close." (He's since removed that first sentence, which I'm forcing myself to not think too hard about.) I have no reason not to believe this story, period. The only thing curious about it, at least to me, is the suggestion that he hadn't seen "Cellophane" until the controversy presented itself last week—and that's indeed the suggestion, right? You see, this would mean that when he took home last year's Grammy for Best Music Video (for "Old Town Road [Remix]"), he hadn't watched the category's next most-hyped nominee.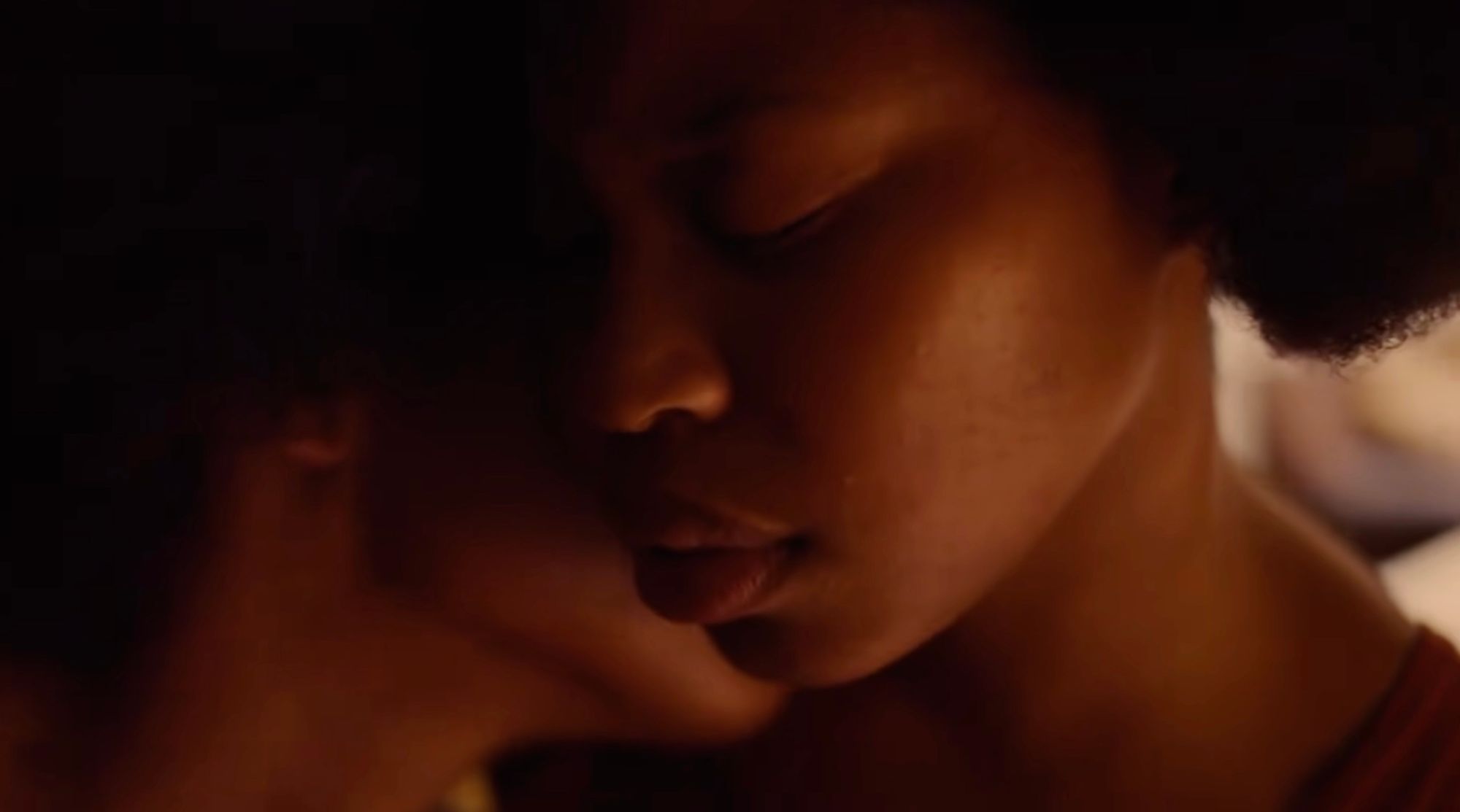 While I haven't yet watched Judas and the Black Messiah, praise for Dominique Fishback's performance as Deborah Johnson in the film had me recently revisit Jay-Z's "Smile" (2017). The video was Miles Jay's contribution to 4:44 (2017), the visual album that can reductively but not inaccurately be summed up as Jay-Z's response to Lemonade. (The story goes that the Carters initially began recording music about whatever went down as a duo, most likely in the summer of 2014, but Lemonade materialized first. They'd eventually finish out the trilogy with their joint project, Everything Is Love [2018].) Though people don't tend to think of it as a visual album, in part because the videos were staggered and initially released as Tidal exclusives, Jay-Z made videos for 12 out of 13 songs on 4:44, other directors involved including the Safdie Brothers, Ava DuVernay, Mark Romanek, Alan Yang, and more. (The Safdies reportedly won Adam Sandler over for Uncut Gems [2019] in part by sending him their video for "Marcy Me," which Sandler "really emotionally responded to.")
Four years later, I think that "Smile" might be my favourite video from the album, resting largely on Fishback's indelible performance as Gloria Carter, Jay-Z's mother. Roughly seven minutes long, it first gives us Carter (Fishback) as a young, closeted mom who lives with her family in Brooklyn's Marcy Projects in the '70s, clearly in love with another local mom who regularly does her hair. (The care and sheer eroticism in these sequences… don't call or text.) It later jumps to real-life Gloria in 2017, as she reads a poem to a group of Black women about no longer "living in the shadow." The song was how she publicly came out, with the video framed around a little boy's glimpses of his mother before she felt like she could. (Jay-Z spoke a bit more about his mother's coming out here, for anyone who might be interested.)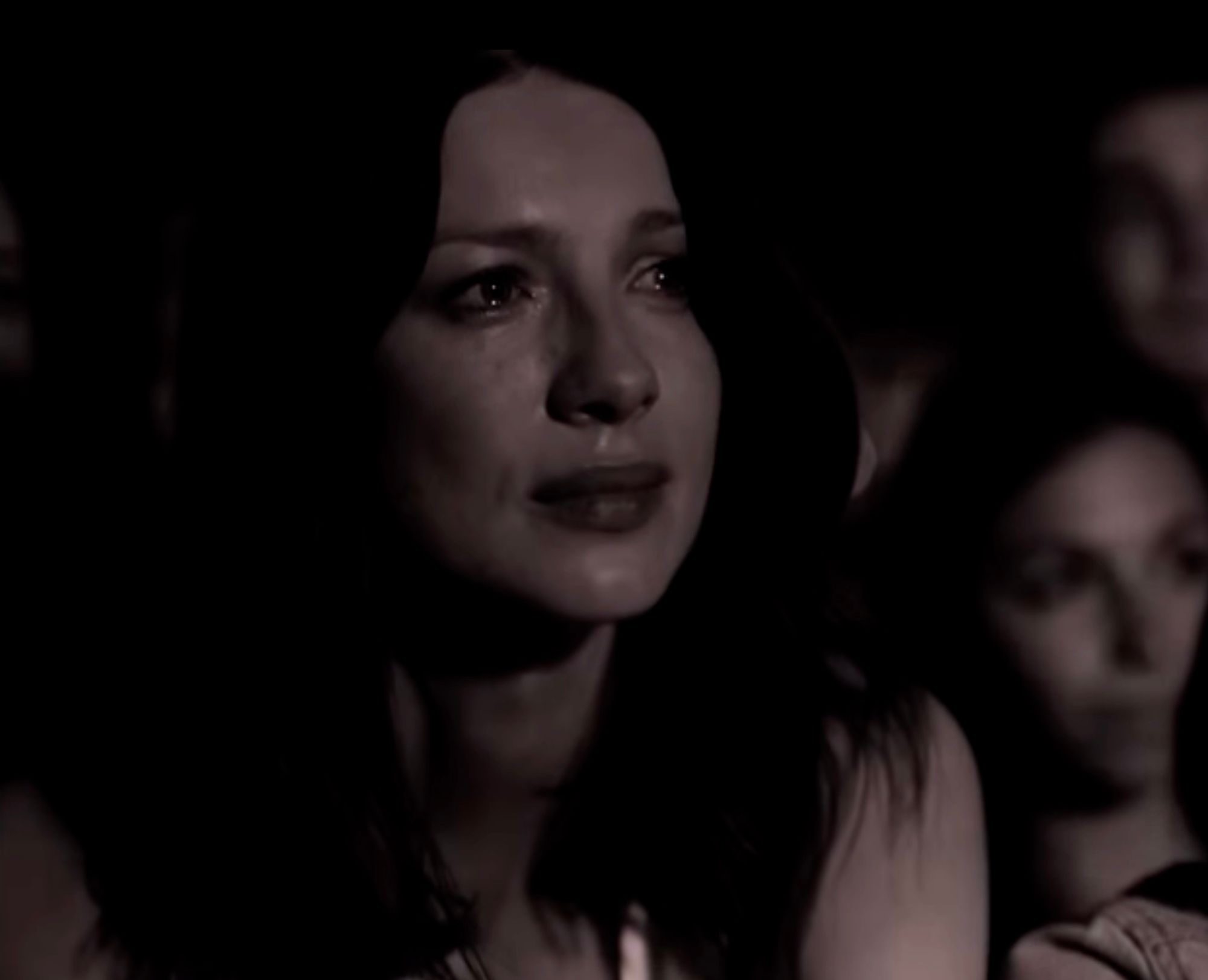 I spent quite a bit of January and February writing this essay on Sofia Coppola's Marie Antoinette (2006), which I argued is the centrepiece work of a filmmaker who's forever been balls-deep in music video culture. It's hard to say whether this actually comes through in the piece, but I watched practically everything that Coppola has ever made to write it, including the so far six music videos that she's directed. Though I ended up nixing the section in question, my first draft briefly mentioned "Chloroform" (2013), the only video that she's ever made for Phoenix (fronted by her husband, Thomas Mars). The section was about Coppola's very palpable respect for the particular coping mechanisms and corners of pop culture that young people, especially young women, gravitate towards; they journal, they pass notes, they gossip, they cry when their parents make them throw their Kiss records in the fireplace, and so on.
Like most of Coppola's videos, the concept for "Chloroform" is pretty simple: a group of young women—some of whom you might recognize, depending on whether you're a fan of The Walking Dead, Outlander, or Coppola's The Bling Ring (2013); I'm currently re-watching one of these for the [redacted] time—watch a Phoenix show from the front row and basically just lose it, drunk with fandom. Coppola pays relatively little attention to the band itself, which I love, and uses just a hint of slow-motion to suspend everyone in time with each other. What I like most about the video is how it doesn't seem interested in indicting these women, even as they sob and lose consciousness in the presence of this band they love. I recommend watching it in full screen and imagining yourself fully vaccinated and at a concert with these ladies. ●
Mononym Mythology is a newsletter about mostly pop divas and their (visual) antics. It's totally free, but if you got something out of this instalment, consider buying me a coffee. The best way to support my work otherwise is by sharing it. You can subscribe here, and you can also find me on Twitter and Instagram.