What a Beyoncé-Ordered "Expansive Listening Journey" Looks Like
"Keep 'em waitin' like dot, dot, dot, dot, dot, dot"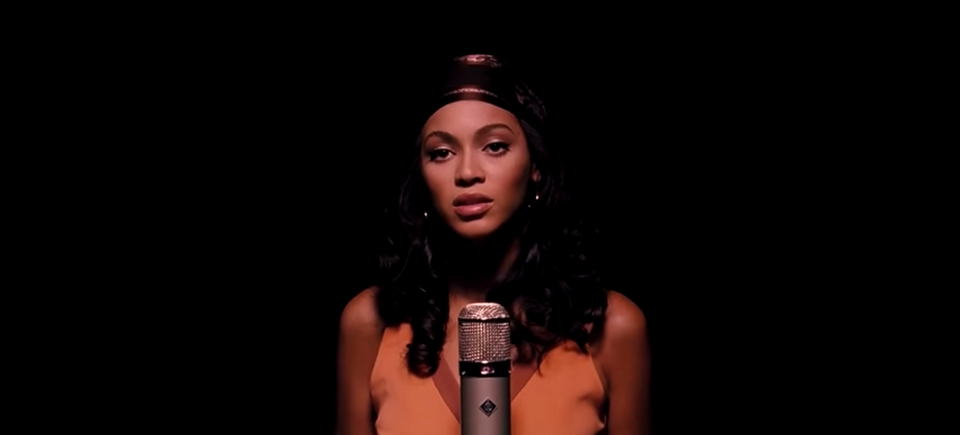 This is a dispatch that will hopefully—fingers crossed—be made largely obsolete not too long from now, aka whenever Beyoncé finally releases whatever visual project she has up her sleeve for Renaissance (2022). There are rumours that we might get some sort of update about it in time for Halloween, and while I'm definitely privately hanging my hopes on that, I'm not dying on any more prediction hills because of how high my failure rate has been this year when it comes to Beyoncé. But, even if some new teaser drops the minute I send this out or something—if one does, you can thank me!—I like the idea of getting this particular moment down on paper for later when it's harder to remember.
To back up a bit: this past summer, as Beyoncé was about to release Renaissance on July 29—after a month and a half's notice, an uncharacteristic but much-appreciated heads-up from the star—it was assumed that the album would be accompanied by visuals of some sort. Every Beyoncé album for two decades had either been preceded by or released alongside something in terms of moving images. Early in her career, that looked like making videos for singles, which often—as is still the industry standard—came ahead of albums proper. But over this most recent decade or so, Beyoncé has become known, more or less singularly, for surprise-introducing albums with full-length films and/or visual albums ready to go, BEYONCÉ (2013) and Lemonade (2016) being the two key examples.
Even when there were exceptions to that during the 2010s, there were still visuals of some kind to bolster releases—the I Am… World Tour film to go with the live album of the same name in 2010, Beyoncé: X10 and Yours and Mine to go with the platinum edition of her self-titled album in 2014, the "Apeshit" video to go with EVERYTHING IS LOVE in 2018, the Netflix smash Homecoming: A Film By Beyoncé to go with that live album in 2019, Making the Gift and the placeholder videos for "Spirit" and "Bigger" to go with The Lion King: The Gift later in 2019, and Black Is King to go with the deluxe edition of The Gift in 2020. Because of this overwhelming precedent, it wasn't so much a matter of whether Beyoncé would be releasing visuals in July but rather what kind.
But in the days leading up to the album's release, Big Freedia and Beyoncé were individually spotted filming what looked like "Break My Soul" (Renaissance's only lead single) visuals in public, and the tenor of the conversation quickly changed online. "[The album is] supposed to release in a few days… hello," wrote one person on Twitter. Another: "I really really pray we get a visual album 🥺 🙏🏻 I'm so used to it by now it would be weird not to get one." It wasn't impossible that Beyoncé could be editing last-minute footage into something, but it was perhaps unlikely given what we know of her work process in terms of visuals (at least as of late—there were videos from BEYONCÉ tied up in the hours before the album's release, and the On the Run Tour film had to be put together in less than a week). And while photos from the Renaissance booklet—typically production stills with post-BEYONCÉ Beyoncé albums—had started to appear online, there was no indication on her end that said production was imminent.
Then, around EOD on the Thursday night of the album's release, her company Parkwood Entertainment issued a press release, which contained the following passage (triple spaces—*shudders*—not my own):
The originator of the visual album format, and the preeminent visual artist, decided to lead without visuals giving fans the opportunity to be limitless in their expansive listening journey.   It is a chance again to be listeners and not viewers, while taking in every gem of the pristine production.   While "Break My Soul," the first single, arrived with a minimal lyric video, the release of RENAISSANCE sans visuals is another culture-shifting move from the artist who has defined an era with reinvention.
The rest of the press release was full of other phrases hammering home, maybe a tad heavy-handedly, that Beyoncé Giselle Knowles-Carter had pivoted—"shifted gears," "unconventional rollout," and so on. But it also, importantly, stated that "visuals are scheduled for a later date."
(I'll get the elephant in the room out of the way, which is that, no, Beyoncé isn't the "originator of the visual album format." She's easily the artist who popularized the term and has done a ton for visual albums—you know if you read this newsletter regularly that I respect her work in this space so much that it actually rerouted my career—but both the term and the format technically predated her. This is a conversation for another time, since I'm separately working on something more exhaustive about this that would offer more in terms of evidence [for now, I did recently get a bit into the history of visual albums here], but I personally think it's way more useful to zoom in on Beyoncé's many contributions to/innovations within the format than to claim it began with her.)
But anyway! What I'm more so interested in about Parkwood's press release is this: aside from going against years and years of precedent, this approach is arguably at odds with, or at least complicates, previous statements that Beyoncé has made regarding visuals and how central she sees them to her art. "I see music; it's more than just what I hear," she said in 2013, shortly after releasing her self-titled visual album:
When I'm connected to something, I immediately see a visual or a series of images that are tied to a feeling or an emotion, a memory from my childhood, thoughts about life, my dreams, or my fantasies, and they're all connected to the music. […] I wanted people to hear the songs with the story that's in my head, cause it's what makes it mine. That vision in my brain is what I wanted people to experience the first time.
On that album, there were songs—"Rocket," "Mine," and "***Flawless" are all examples—where, rather than recording the song and then going off and making the video, Beyoncé would be working on both pieces in tandem. "It started to come together where she was actually watching rough cuts for the videos in the studio and tweaking the music to fit the visual," her colleague Todd Tourso told Vulture around then. "She would rewrite some lines, or she would add certain audio, or she would add bridges."
While there are obviously ways to get around it if you're trying to, Beyoncé has long had a particular knack for making her visuals a non-negotiable part of engaging with her music. She's often premiered music videos on the same day as certain songs have been released; "Single Ladies" is a good Mathew Knowles-era example of this. You couldn't hear her self-titled album when it first dropped without buying an all-or-nothing package that included its 17 videos, so there was a pretty good chance that you were going to experience the album for the first time visually as well as aurally. Lemonade only hit Tidal once the film had already started airing on HBO. In the aggregate, this means that when you're listening to Beyoncé's music, there's a good chance you're picturing exactly what she wants you to picture. You get the vision in its fullest, most fleshed-out iteration from the jump.
So, in deviating from that long-time strategy with Renaissance, she's asked fans to experience her work in a way they're not exactly used to—and there's been a mixed response to that experience. I wondered back in those first few days post-release whether there may have been some sort of production issue that delayed the visuals, or if the financial and/or PR crises taking place at their two rumoured streamers (Netflix and HBO Max) over the summer were relevant to all of this somehow. Since this is the job of a public relations professional anyway, I imagined that the press release was possibly a way of spinning an unplanned hiccup into something that sounded premeditated, which Beyoncé—like most pop stars, if not all of them—has had to do before. Nothing to see here, basically. I don't believe I think this anymore, though there have indeed been (largely unsubstantiated) rumours of things like reshoots and legal hurdles. But I'll come back to that in a bit.  
Absent any official visuals to go off of at the time of the album's release, my brain started to pull from other things I could see Beyoncé doing in my head—not because I was necessarily looking to picture something while listening, but because my mind went right ahead to try and fill the void anyway. During the thumping outro of "Cozy" that teases "Alien Superstar," I picture a sped-up version of this move from Beychella. When she sings "Fan me off, I'm hot hot hot" on "Heated," I imagine her fanning herself in the Fela Kuti interlude from the Mrs. Carter Show. In the final seconds of the album, I see her standing there with her arms crossed in the first-ever Ivy Park ad, fully aware that she just stole an hour of my life from me and is about to steal another one. I even edited that last example together for my Twitter followers in an effort to better explain what I was getting at (open this thread up if you'd like the full context):
If you're reading this as someone who hasn't been living this particular life since late July, it might sound like I've lost my mind. But in making that shitty edit, I'd created just one of probably thousands of fan-made Renaissance visuals, which started to appear online in the hours after the album's release. Every single song—no exceptions—has been given dozens, if not hundreds, of new lives that Beyoncé may have inspired on some level but nevertheless didn't art-direct (save for the audio, of course). "Heated" got a whole genre of these…
…as did "Alien Superstar"…
…and plenty of other videos soundtracked by the album have been hardwired into my brain since July.
Because of the way meme culture works, this was already bound to happen to some extent; it's not at all uncommon for a huge chunk of visual material adjacent to an album to be fan-made—it's worth mentioning the viral TikTok challenge for "Cuff It," which Beyoncé has acknowledged but which took off totally organically—and there are even cases out there where fan-made material has eclipsed official stuff. But, counter to what I originally assumed about something having potentially gone wrong with the visuals, I'm now convinced that these almost three months without them were the plan all along. You may have noticed in my own tweet above that I found myself using the phrase "expansive listening journey" (pulled from the press release) in earnest, since it was around then that I think I started to understand what may have been meant by it.
While Renaissance isn't by any means an impersonal album, or devoid of nods to Beyoncé's real life, it isn't vulnerable/specific in quite the same way as her last several solo studio albums (one snippet of the press release reads [italics my own], "Packed with rousing anthems that resonate with everybody…"). In inviting fans to embark on their own listening journeys while they wait for an official visual accompaniment, she's given them the chance to project whatever they'd like to on the music in the meantime. And I mean, they're doing it in spades.
All of this dovetails with Beyoncé's more general strategy of driving interest in her work by making herself scarce most of the time. As much as it gives her privacy or keeps the focus to her art or any of the other things she's argued that it does, it's also just good for business. (I often think about former Parkwood President/COO Steve Pamon telling Billboard in 2019, "First of all, it has become part of Beyoncé's brand to surprise and delight. The other big piece, mathematically speaking, is the amount of money and effort that people put into hype.") Regardless of the actual reasons behind this wait, consider the thousands of people who've posted all manner of desperate, undignified, sometimes angry social media posts about not having visuals yet, and then consider that they'd probably go anywhere at this point—to Tidal, to Netflix, to Disney+, to movie theatres (as I think Beyoncé will try at some point)—for some relief. Many of the videos being posted by fans are captioned something along the lines of, "Making my own Renaissance visuals because that lady won't release hers."
Another thing that obviously helped change my mind about the intentionality of this rollout: Beyoncé releasing a mysterious teaser set to the album's opener, "I'm That Girl," a couple weeks after the album itself. (This wasn't too long after she majorly trolled everyone and uploaded a YouTube video called "Break My Soul [Cliquebait]," essentially a moving version of the album cover.) We don't yet know what the teaser is teasing or when we might expect it, but teasing it at all—and implying visually that it's once again some sort of full-length project—before leaving fans hanging was a move very few artists would ever dare. Yes, there's something coming, she seemed to confirm. Have a lovely summer. The internet has responded, in essence, by spending a whole season continuing to market the album for her.
It's very telling, I think, that as soon as Beyoncé dropped that teaser, my brain more or less lost the ability to picture anything while listening to "I'm That Girl" except *checks notes* Beyoncé cracking an egg on her boobies while dressed as Barbarella. Now that "Summer Renaissance" has found its way into a Tiffany & Co. ad, the same thing has happened with that song. It's likely that the album will eventually be taken over entirely in my brain by whatever Beyoncé wants it taken over by.
Until that happens, I don't think I've ever gotten so acquainted with the instrumentation and vocal layering and adlibbing on an album—"every gem of the pristine production," as the press release put it. On 2016's "Formation," there's a bit towards the end of the song where Beyoncé (or maybe someone else, but likely Beyoncé), well, barks several times. I remember noticing it for the first time while training for a 10k in 2016 and giggling in the middle of my run. Would I have clued into it at some point regardless? Probably, yeah. But in that particular moment, I did so precisely because I was on a run and didn't have the "Formation" video in front of me—my brain looking for literally anything to think about except being on a run. For me, Renaissance has exploded that experience into a whole album's worth of barks, for lack of a better way of putting it (I have a head cold).
Some fans have argued that this chapter also proves that Beyoncé doesn't need a visual gimmick in order to sell an album, which I think is an interesting point (even if I'd never heard that thrown out as an accusation, which is not to say it hasn't been thrown out). That said, I'm sure we'll discover whenever visuals do appear that they aren't any less central to this Beyoncé project than usual, even if they're being released on a different timeline than we're accustomed to. She just isn't among the artists out there making music videos and/or films out of obligation, and trust me that there are quite a few.
Either way, her strategy is certainly on track to give the album a healthy cultural lifespan; it's easy to forget given Lemonade's impact that, because of her pregnancy, the entire era lasted about a year and no more, from February of 2016 to February of 2017, whereas it's already been four months since Beyoncé first announced Renaissance and we still know very little. I trust whatever she's doing because there's honestly no precedent that gives me reason not to. I'll be over here—as I usually am—with my memes, patiently waiting like dot dot dot dot dot dot. ●
---
Mononym Mythology is a music video culture newsletter by me, Sydney Urbanek, where I write about mostly pop stars and their visual antics. I do that for free, so if you happened to get something out of this instalment, you're more than welcome to buy me a coffee. The best way to support my work otherwise is by sharing it. Here's where you can say hello, here's where you can subscribe, and you can also find me on Twitter and Instagram.