30 Years of 'Justify My Love,' a Top-Tier Madonna Blueprint Moment
"I think that sexuality is something that Americans would really rather just sweep up under the rug."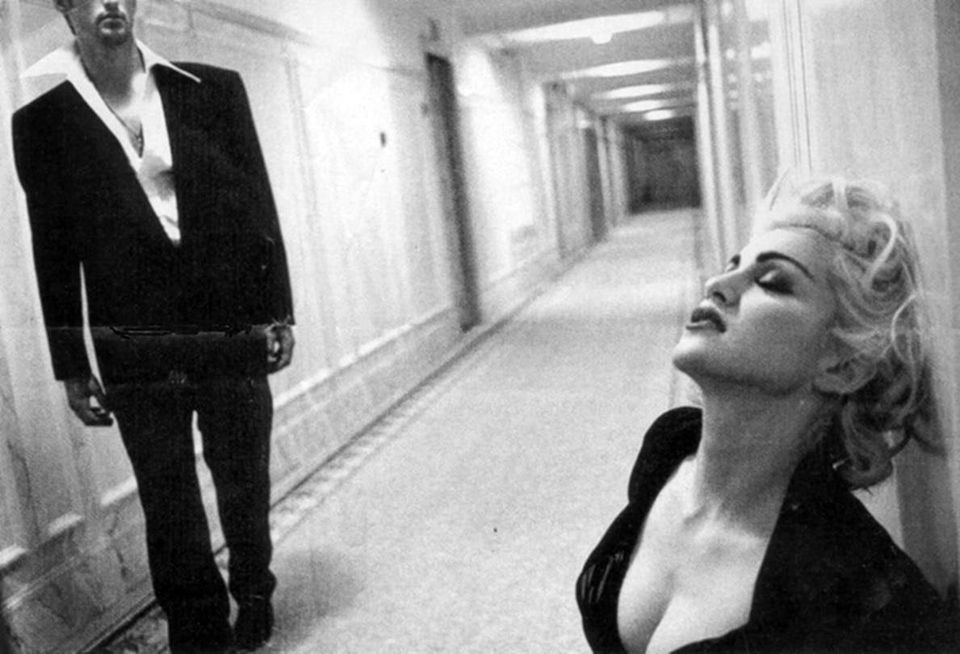 "It has become virtually a seasonal affair: the weather changes, and there is a new Madonna controversy," began Forrest Sawyer in the episode of ABC's Nightline that aired on December 3, 1990. "This one is a video that MTV, the popular cable music video channel, refused to air. Instantly, a storm of questions arose. Is this a kind of censorship? Has Madonna finally gone too far?"
---
If you caught my second last newsletter instalment, you know some of the background for this story already: by the fall of 1990, Madonna was finished with her Blond Ambition World Tour as well as Dick Tracy (1990) co-star Warren Beatty, with whom she'd rebounded from none other than David Fincher. She'd now shacked up with model Tony Ward, who'd actually played one of the mermen in her "Cherish" video the year prior. (He turned out to be married, but that's not important right now.) It was decided that her next project would be The Immaculate Collection (1990), her first greatest hits album. Set for a November release, it would chronologically move from "Holiday" (1983) to "Vogue" (1990), then offer two new tracks: "Justify My Love" and "Rescue Me." This essay is about the former, released as a single 30 years ago today.
---
Before Madonna ever entered the picture, "Justify My Love" was conceived by Prince collaborator Ingrid Chavez, Lenny Kravitz (with whom Chavez was apparently in some sort of relationship external to his marriage to Lisa Bonet), and producer André Betts. "Writing [the song] was one of those moments when magic just happened," Chavez told Vibe in 2013. "André got a beat going. Lenny recorded a synth line and then he asked me if I had something I wanted to say. I had a letter on me (my letters are like poems) and so I got on the mic and basically read the letter." The letter in question was a love letter to Kravitz that Chavez had written but never mailed. Kravitz appears to have then taken the demo to Madonna; he added the chorus from which the song takes its title, Madonna changed a line, and her version was released with neither Chavez nor Betts credited. (Both musicians would later file separate lawsuits against Kravitz, not Madonna. There was additional controversy surrounding the origins of the drum beat: without permission, Kravitz more or less lifted the backing track from Public Enemy's "Security of the First World.")
In Madonna's words, "Justify My Love" is "about a woman who's talking to her lover and she's saying, 'Tell me your dreams, am I in them? Tell me your fears, are you scared? Tell me your stories, I'm not afraid of who you are.'" Excepting its chorus, the song is entirely spoken, and delivered as if mid-romp. "[Madonna] did an amazing job of copying my vocals," Chavez has said. "It was exactly like the demo. She got the honesty of the song, the intense emotion, and the real strong desire." By the end of September, Madonna had shot the single's leather-heavy cover art with Patrick Demarchelier, and the single itself was released in the first week of November.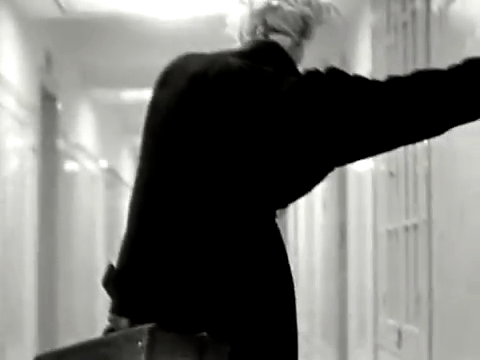 Madonna began filming a video for the song on November 9, the same day that The Immaculate Collection was released in full. The video saw her reunite with fashion photographer Jean-Baptiste Mondino, who'd directed "Open Your Heart" back in 1986. (The two have now worked together six times.) "Justify My Love" begins with an exhausted Madonna walking down a hallway at Hotel Le Royal Monceau in Paris—styled much like Jeanne Moreau in Jacques Demy's La baie des anges (1963), and wearing a black trench coat that's left open enough to reveal a lacy lingerie set. As Richard Harrington wrote for The Washington Post, "the video looks like a Helmut Newton lingerie catalogue come to life, or something you might come across in a cheap motel with cable."
There are also kinky goings-on in each of the hotel's suites, which we know because the guests in question have left their doors open; there's very much a house-of-pleasures vibe. What follows begins as a sex scene between Madonna and one of these guests (played by Ward), and turns into more of a group activity. As MTV's Kurt Loder summarized the clip, it contains—among other things—"nudity, suggestions of bisexuality, sadomasochism, [and] multiple partners." One of these partners, played by model Wallis Franken, is dressed like Charlotte Rampling's character in Liliana Cavani's BDSM classic, The Night Porter (1974). At the end of the video, Madonna quickly leaves down the hallway from the beginning, laughing and seemingly a little dazzled. Mondino has described a decidedly method video shoot:
The whole idea was to lock ourselves into this hotel for three days and two nights. Without any rules. We rent the whole top floor of that hotel. You know usually when you do a shoot, you have timing… […] we didn't have none of this. This is the rooms that we were sleeping in, living in. Maybe 15 rooms. One room was [the] makeup room, one was the wardrobe. Nobody was allowed to go out. There were tables with food in it, and when people were starving, they were eating. There were no rules—we had alcohol, we could smoke. I didn't have any concept at all, except the idea that [Madonna] was arriving in the hotel tired, broken; and when she was going to leave the hotel, she was full of life, she was full of energy, full of everything. […] It was very strange because we didn't know when we were doing the film or when it was real, you know? The whole thing was mixed up. The last morning when I woke up and had to go back home, I felt very strange on the sidewalk. I said, "Do I have to go home or not?" It was the first time in my life I didn't know what to do, because I had like a dream—it was not a shoot.
Said blurring between 'doing the film' and 'when it was real' is a crucial part of the video's lore. While Ward isn't the only real-life lover of Madonna's to have appeared in one of her music videos, he stands out among his peers for the explicit nature of his role. On a more complicated note, Madonna also seems to have pursued model Amanda Cazalet, who plays another of her implied lovers in the video, via love letters (and love faxes, actually) once the shoot was over. "I'm attracted to very few women in this way," she wrote in a handwritten letter that was sold at auction in 2018.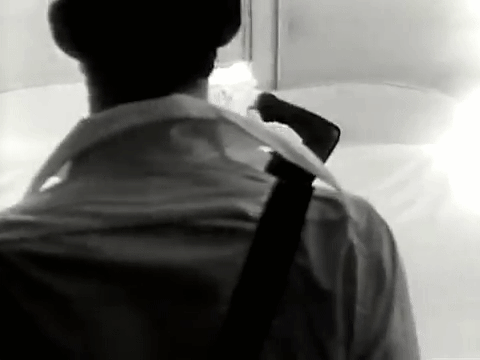 On November 27, MTV formally announced that it had banned the video—not edited, not relegated to late-night programming, but banned. "We respect [Madonna's] work as an artist and think she makes great videos," the network's executives wrote in a statement. "This one is not for us." "These fantasies and thoughts exist in every person," Madonna said in a phone interview with The New York Times that same day. "Why is it that people are willing to go to a movie and watch someone get blown to bits for no reason and nobody wants to see two girls kissing or two men snuggling?" Madonna had asked a fair question, and it turned out to be just one of many that she had about the cultural climate.
Which brings us to Nightline. It was decided that the "Justify My Love" video would play in full on the program in the first week of December, followed by a 15-minute live interview with Madonna. The idea was win-win: ABC got the ratings that MTV had squandered, and then Madonna would immediately be beamed live into those same viewers' homes to say whatever she wanted to say.
"When we gave [the video] to MTV, we asked them if they would play it," she explains to Forrest Sawyer during the segment. "They came back a while later and they said 'No.' I said, 'Is there one scene or another that you specifically object to?' and they said, 'No, it's the whole tone,' so we didn't really even have a chance to try to make it viewable. They rejected it completely." Madonna admits that she figured there'd be pushback of some kind from MTV, but tells Sawyer that she was optimistic because of her past victories over the network—including forcing it to keep the shot of her nipples in Fincher's "Vogue" video earlier that year. "I thought that once again I was going to be able to bend the rules a little bit," she says.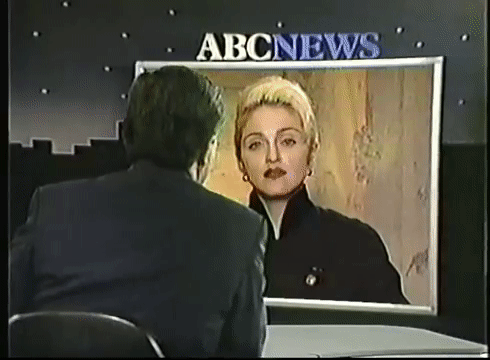 The interview gets progressively more heated as Madonna is asked to answer for the video content itself. Sawyer is overly concerned with the children at home who might have caught it on MTV by accident; Madonna clearly finds the point irrelevant, continually bringing the conversation back to censorship double-standards as well as the country's discomfort with sexuality. She argues that MTV plays plenty of videos that are violent and/or sexist, sarcastically telling Sawyer, "I think MTV should have their violence hour, and I think they should have their degradation to women hour, and then we can have an hour where we deal with adult sexual themes." When Sawyer asks about the corners of the feminist movement that dislike Madonna and her work, citing the mixed response to Fincher's "Express Yourself" video, she does the same conspicuous eye twitch that she does whenever she's annoyed in interviews. (The thumbnail for this newsletter is taken from another one of these moments.)
"I think that sexuality is something that Americans would really rather just sweep up under the rug," she also says, declaring that parents whose children have questions about the content of the video should be forced to, well, parent:
Let them get confused and let them go ask their parents about it. Let their parents explain to them that it is a sexual fantasy and that these things exist in life, like they see violence, okay? It exists in life. […] Why aren't we willing to deal with sexuality, why? I mean, the networks won't even play ads on TV that are about condoms, about birth control, about practicing safe sex. We're pretending like we don't have a lot of teenagers that are having sex in the world right now. Why are we subjecting ourselves to this kind of ignorance? […] The teenage pregnancies in this country have reached a highest high. I mean, we have sophomores in high school that are having their second babies already, okay? And the rate of AIDS is raising in the heterosexual community at a really frightening rate. So, why is that? These parents are not doing their jobs.
Madonna hadn't name-checked the AIDS crisis just for the hell of it; it had been tangibly and overtly informing her work for years at this point. On October 27, after "Justify My Love" had been recorded but before the video was shot, Madonna's first dance teacher and mentor, Christopher Flynn, died from an AIDS-related illness. Flynn wasn't even the first AIDS-related death in her circle that year: five days after she'd walked off the set of the "Vogue" video in February, Keith Haring, her friend of almost a decade, died in his Manhattan home. Madonna had spent much of 1990 grieving and raising money for the cause, all the while continuing to disseminate information about safe sex in her album booklets and on stage. In bringing the crisis into the conversation with Sawyer, she'd confirmed the direct link between it and her desire to foreground less normative sexualities in her work, especially as one of the most visible people in pop culture.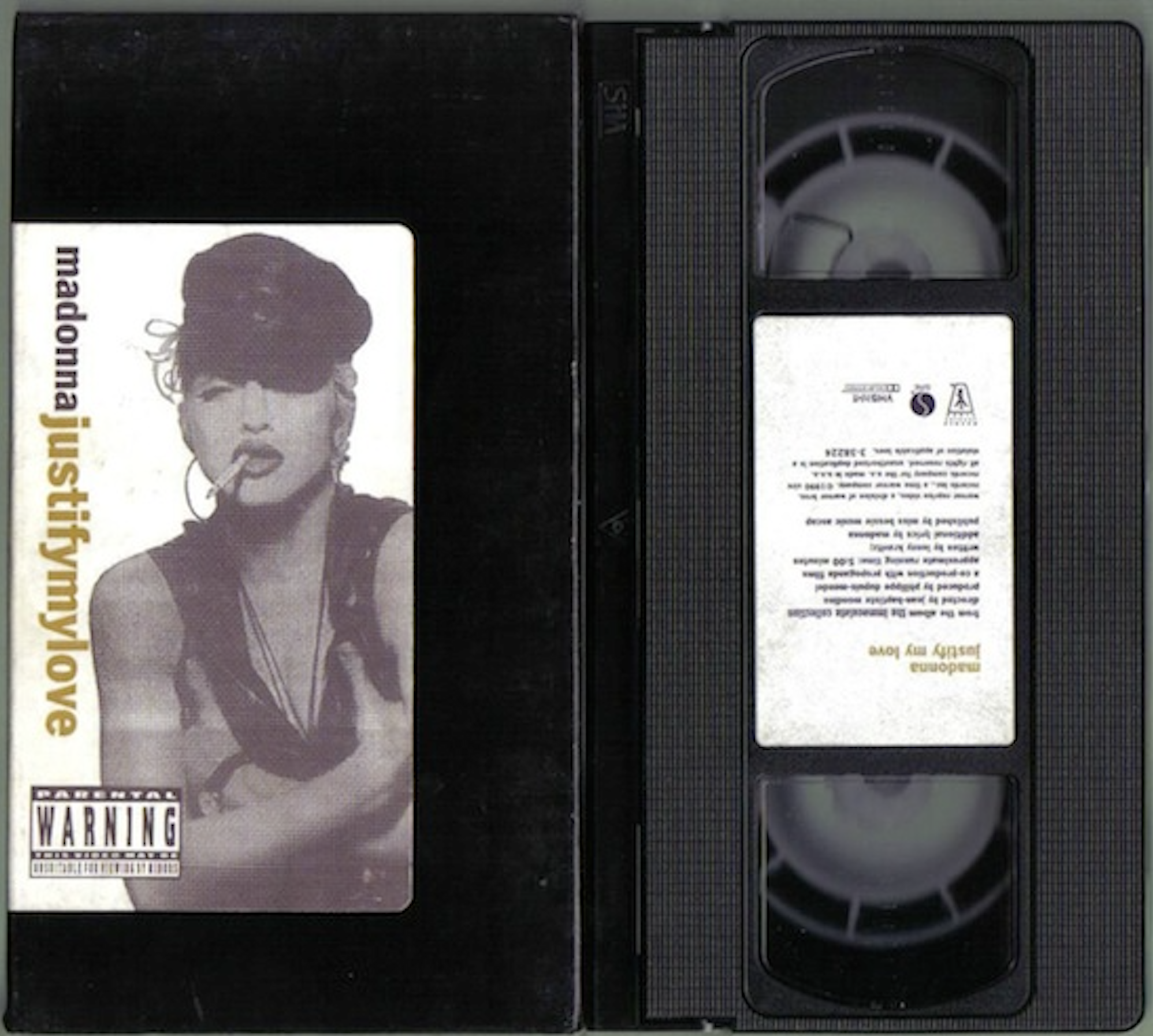 Madonna and her team had come up with a plan to circumvent the MTV problem: "Justify My Love" would be released as a "video single" on VHS. (Queen had done this four years prior in the United Kingdom, but no one had ever done it in the United States.) Adorned with Demarchelier's cover art, the tapes were released later in December at $9.98 a pop, quickly making "Justify My Love" the best-selling video single of all time. Despite having zero MTV airplay, the song reached the number-one spot on the Billboard Hot 100 by mid-January.
From the politics that informed the video to its release method, "Justify My Love" was in many ways a prelude to Madonna's Erotica (1992) era. The video's commercial success likely played a role in her decision to eventually co-found her company, Maverick, in the spring of 1992. "It started as a desire to have more control," Madonna would tell the Times that year. As journalist Stephen Holden reported, "Time Warner plans to announce an agreement today in which Madonna, in partnership with Time Warner, will form her own multi-media entertainment company […]. […] Both in its size and in the autonomy it confers, the agreement is unprecedented for a female pop entertainer." The company's first projects were Madonna's fifth studio album, Erotica, and her coffee table book, Sex—both released the same week in October of 1992.
Two decades later, just after Beyoncé released her surprise self-titled visual album, she suggested to a crowd that Madonna and Maverick had served as major inspirations for the project: "I wanted to follow the footsteps of Madonna and be a powerhouse and have my own empire and show other women, when you get to this point in your career, you don't have to go sign with someone else and share your money and your success, you do it yourself." BEYONCÉ (2013) had been produced entirely by her equivalent company, Parkwood Entertainment, which started taking shape in 2008 and has since churned out everything from Lemonade (2016) to Ivy Park.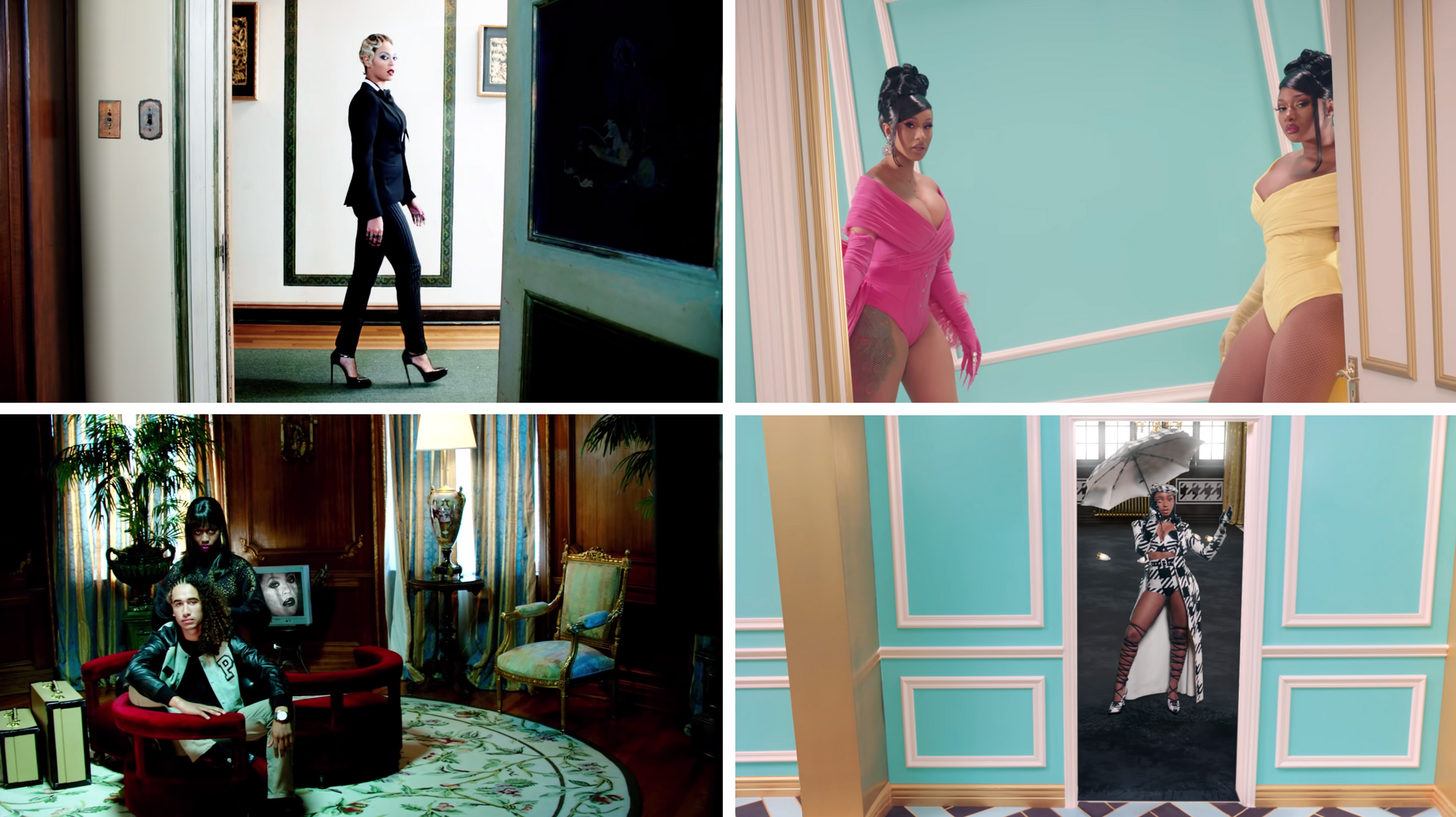 It's fitting that "Haunted," a video from BEYONCÉ, is a sort of tribute to "Justify My Love." The former was directed by Jonas Åkerlund, a frequent collaborator of Madonna's who has called Mondino "one of [his] idols." It uses a similar house-of-pleasures concept, where Beyoncé gazes into the different rooms of a mansion as she walks through it. Åkerlund had actually used the idea prior to 2013: in Ozzy Osbourne's "Gets Me Through" (2001), Ozzy surveils other Ozzys in different rooms as he walks down a hallway; in Lady Gaga and Beyoncé's "Telephone" (2010), Gaga is walked past a bunch of leering inmates in their cells by two guards. To be sure, the video has also been replicated and/or alluded to many times without Åkerlund's involvement. Missy Elliott and Ludacris's "One Minute Man," directed by Dave Meyers, features its own horny hotel. Cardi B and Megan Thee Stallion's "WAP," directed by Colin Tilley, more closely resembles Madonna's original. Beth Ditto's "I Wrote the Book" references "Justify My Love" and the Erotica era in the same breath; Ditto seems to agree that Mondino's video was really the first chapter of the latter.
Several of these videos have, like "Justify My Love," found themselves at the centre of bigger discussions about feminism, sexuality, and respectability. This doesn't feel accidental, since you can do and say a lot with its basic formula by switching up the characters in each room, not to mention whether and how an artist engages with those characters. Gaga doesn't pay attention to her fellow inmates because she's the intended focal point; in Åkerlund's "Paparazzi," the precursor to "Telephone," she'd quite literally called the police on herself and then changed outfits in time for her perp walk. In "Haunted," Beyoncé looks curiously into the mansion's rooms—testing the waters as a wife, new mom, and Black woman in the public eye who wanted to sing more about getting railed—before eventually ending up in one of those rooms in her own lacy lingerie set. As "Justify My Love" turns 30, the least we could do is recognize it as one of Madonna's indisputable blueprint moments. ●
Mononym Mythology is a newsletter about mostly pop divas and their (visual) antics. It's totally free, but if you got something out of this instalment, consider buying me a coffee. The best way to support my work otherwise is by sharing it. You can subscribe here, and you can also find me on Twitter and Instagram.