Decoding Beyoncé's 'Self-Titled' Vision Boards
An education in the album's influences, not to mention Beyoncé's pop culture taste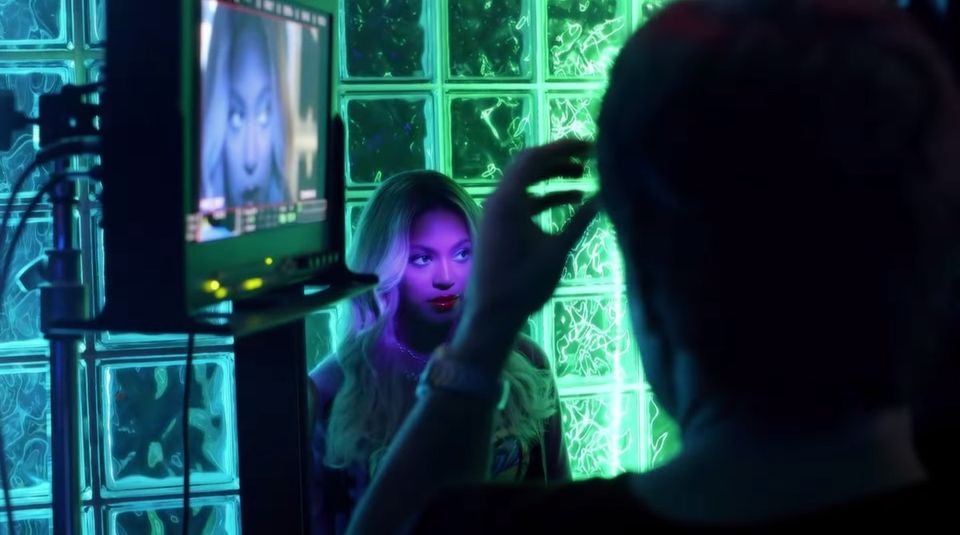 I've spent the last few weeks doing little more than finishing the rough draft of my thesis on Jonas Åkerlund, which has ended up revolving quite a bit around Beyoncé's self-titled visual album. BEYONCÉ (2013) had 17 videos, and, perhaps in the interest of keeping the project as under wraps as possible, there were several instances where a single director handled multiple. Hype Williams directed "Drunk in Love" and "Blow"; Jake Nava directed "Partition," "***Flawless," and "Grown Woman; Beyoncé herself co-directed "Jealous," "Rocket," "Heaven," and "Blue"; and so on. Åkerlund directed both "Haunted" and "Superpower," and both are heavy on the surveillance footage and themes, which is generally speaking the subject of my thesis.
Because this is what I've been up to, I've been given a good excuse to revisit the album's extras. With the exception of Making The Gift (2019), the doc that Beyoncé released about her companion album for The Lion King (2019), her self-titled era was the last time she released substantial behind-the-scenes material for an album. Beginning the day that BEYONCÉ appeared on iTunes, the first of a five-part docuseries showed up on YouTube. Self-Titled (2013-2014), whose segments were staggered over three weeks, served as Beyoncé's official artist statement about the project. There's a segment where she and her team drink D'USSÉ and record "Drunk in Love," another where she's embarrassed to talk about "Partition," and so on.
I've seen all of these videos probably [redacted] times, but it was only recently that I found myself distracted by the vision boards that Beyoncé and her team are surrounded by in these clips. When Jason Gay profiled Beyoncé for British Vogue's February 2013 issue, he was also distracted by them:
In [Beyoncé's] studio are elaborate "vision boards" to stimulate her creative process—photographs, writings, reminders of past achievements. There's the cover of her 2003 album Dangerously in Love. There are photos of her Grammy performances with Prince and Tina Turner. Song concepts. Potential titles. "There's so much stuff up there," she says. "It kind of feels right now like A Beautiful Mind."
I'd noticed these before, but had never really given them much thought because I've long been familiar with Moodboard-yoncé. There was that one time on 60 Minutes that she confirmed there to be a photo of an Oscar on her gym wall. It's also common knowledge among her fans that she likes to revisit her past work whenever it's time to make something new, in part because she's always trying to one-up herself. Plus, it had obviously been someone's job to blur out several of the vision boards and movie posters in Self-Titled—in the latter case, probably for legal reasons—and I didn't want to waste my time deciphering what they were. But then I remembered that I love wasting my time! Here are my findings.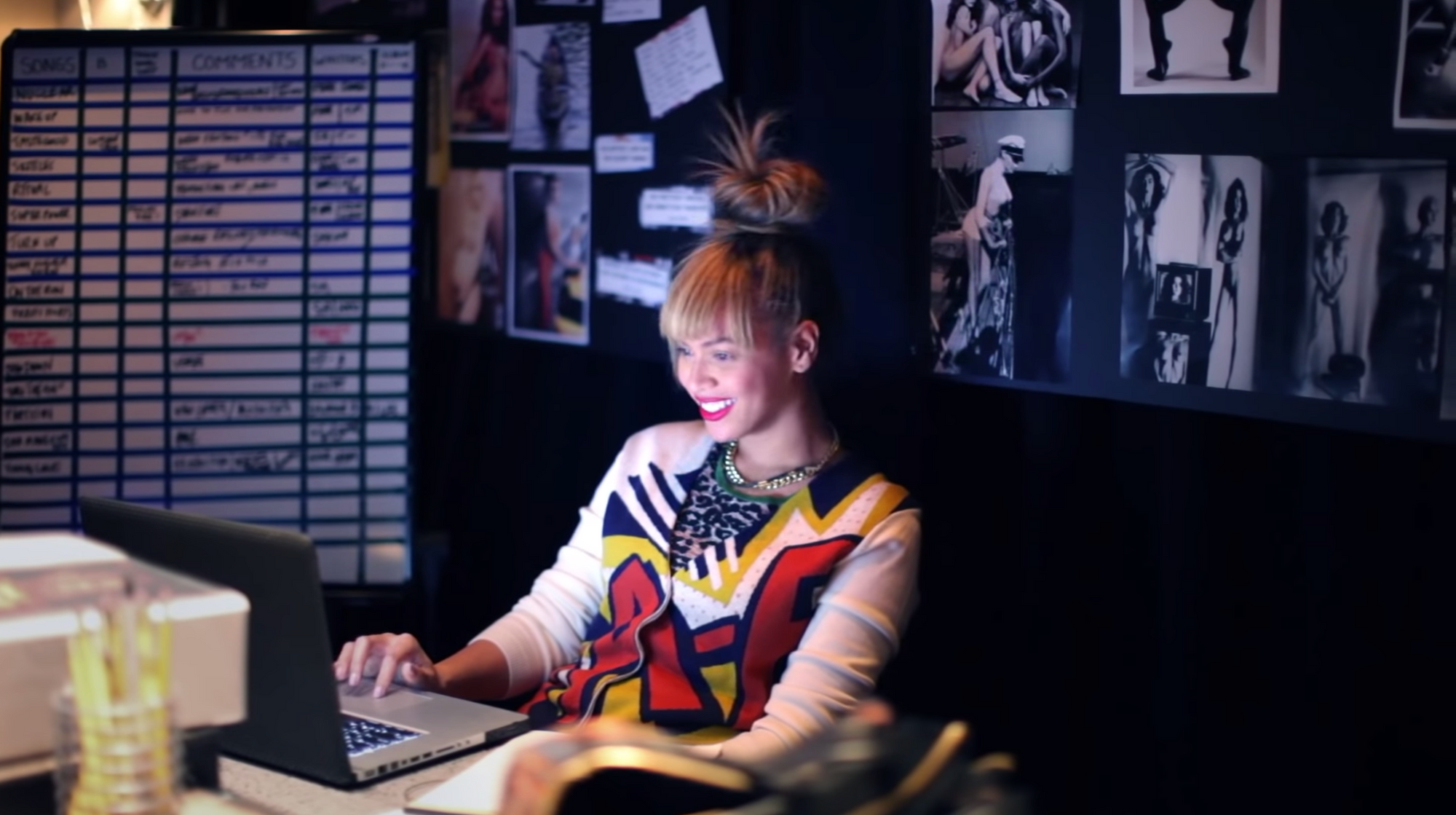 I: NUDES
On the right are a bunch of black-and-white photos, most of them nudes. The bottom row consists entirely of photos by Helmut Newton, including Winnie On Deck (1975) and several from his Big Nude Series (1980). Newton's work is often described as erotically charged, so it makes sense that Beyoncé would consult it for this project, but she's also nodded to Newton elsewhere in her career. He partly inspired her costume for the 2013 Super Bowl halftime show (note that she's pictured here surrounded by his photos in 2012). Then, when she launched Ivy Park, one of the campaign photos seemed to be a direct recreation of this Newton photo of Daryl Hannah.
Above the Newtons is the bottom half of Stephanie, Cindy, Christy, Tatjana, Naomi, Hollywood (1989), a photo by Herb Ritts that's practically synonymous with supermodel-dom itself. Nearly all of these women appear in George Michael's "Freedom! '90" (1990) video, which Beyoncé apparently wanted to do a "contemporary, street version" of for BEYONCÉ. The result was "Yoncé," in which models Jourdan Dunn, Chanel Iman, and Joan Smalls all appear.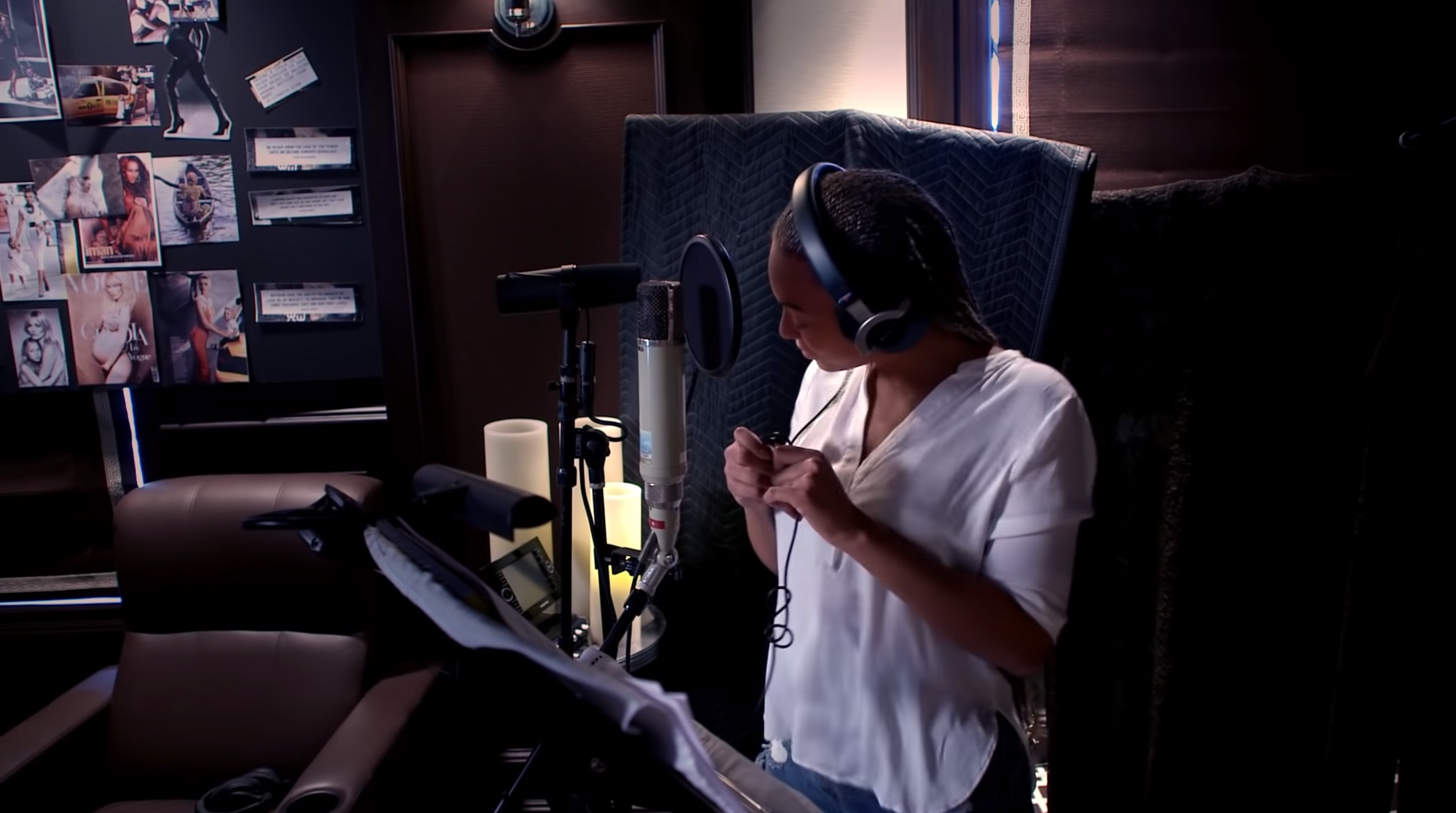 II: MOTHERS
This angle gives us a clearer look at the leftward vision board from the last still, which we can safely say was inspired by Beyoncé having recently become a mother when she started work on BEYONCÉ. In keeping with the supermodel theme, we have a pregnant Claudia Schiffer on the cover of Vogue Germany's June 2010 issue, a photo of Kate Moss and daughter Lila Grace, and a pregnant Iman shot by Andrew Eccles. We also have multiple photos from this spread of model Maryna Linchuk and a couple kids, where the concept was obviously something along the lines of "working mom."
All of this is consistent with Beyoncé's messaging as of her 4 (2011) era, when she sang, "Strong enough to bear the children / Then get back to business." There are only a handful of explicit references to motherhood on BEYONCÉ, most notably on "Blue" and "Mine," but the docuseries suggests that it was really the lifeblood of the album: "You can have your child, and you can still have fun, and still be sexy, and still have dreams, and still live for yourself."
III: QUEENS
I'm focusing here on the middle two panels. On the left are a bunch of photos from prior Beyoncé eras—her Sports Illustrated cover from 2007, her Dangerously in Love (2003) album cover, her B'Day (2006) album cover, and promo photos from I Am… Sasha Fierce (2008). On the right, we have an entire panel devoted to Daenerys Targaryen from Game of Thrones. "I think you're brilliant," Beyoncé apparently told Emilia Clarke at an Oscars after-party last year. When she was the CFDA's Fashion Icon Award recipient in 2016, she remembered feeling "like Khaleesi" in some of the costumes that she wore as a young performer. Clarke also suggested in a Harper's Bazaar cover story that Jay-Z at one point purchased a dragon egg from the show's set for Beyoncé.
I don't want to read into the photos themselves too much, but I couldn't help but notice that one of them is of Daenerys drenched in blood after she eats the raw stallion heart in the show's first season. As part of a pregnancy ceremony, Daenerys has to down the whole thing if she wants her unborn child to be strong. It's disgusting and she succeeds, but she unfortunately still loses the baby. I find this photo's inclusion here interesting in light of Beyoncé's history of miscarriages. She'd had at least one when she recorded BEYONCÉ, and whether it comes up in the album itself really depends on how you read certain lyrics as well as the album's sequencing. "Heaven" is a song about losing someone too soon, officially inspired by watching her mother grieve a close friend. But it's also the album's penultimate track and ordered right before "Blue," its finale about being a new mom. As for "Blue" itself, the song's lyrics have Beyoncé begging her baby to "hold on to [her]" and promising to do the same, which—once again—you can read however you'd like.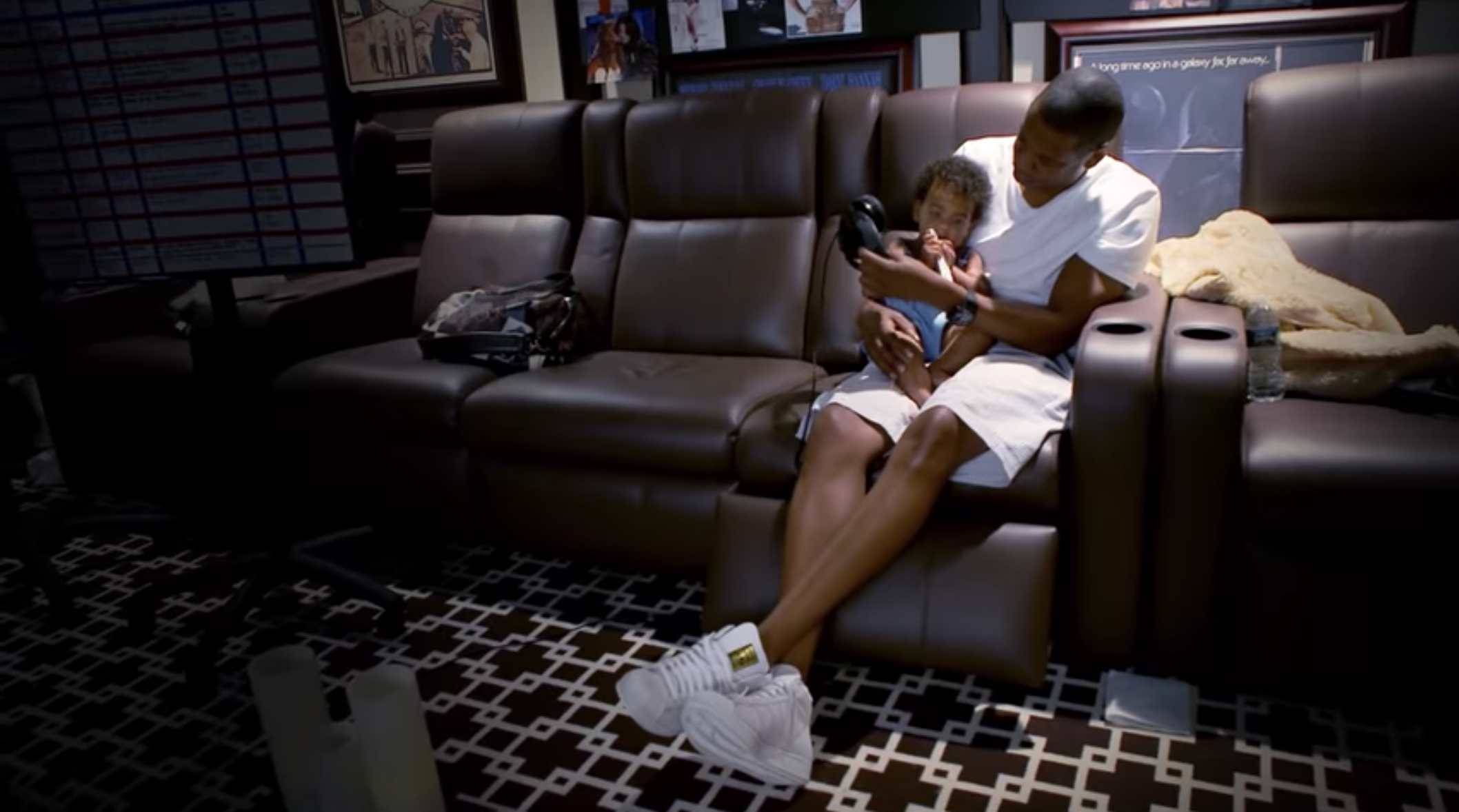 IV: MOVIES
This is the same wall from before, but this angle confirms the poster on the left (blurred out in the last section) to be this Godfather one. Both Carters have referenced the film in their work—Jay-Z more often than Beyoncé, but I'd be remiss not to mention "Beyoncé Corleone." It'd be a reach to argue that The Godfather (1972) factored into BEYONCÉ at all; this is clearly just a poster that the Carters have in their Hamptons home, alongside the Wall Street (1987) and Star Wars (1977) ones behind the couch.
We can also see here that one of the photos on the vision board reserved for Beyoncé's prior eras is one of her and Michael Jackson. Self-Titled begins with her reminiscing about watching the "Thriller" video as a kid, giving us an idea of what exactly she sought to champion—and rail against—with her own project:
I remember seeing "Thriller" on TV with my family. It was an event… we all sat around the TV. […] I miss that immersive experience. Now, people only listen to a few seconds of a song on their iPods, they don't really invest in a whole album. It's all about the single and the hype, it's so much that gets between the music and the artist and the fans.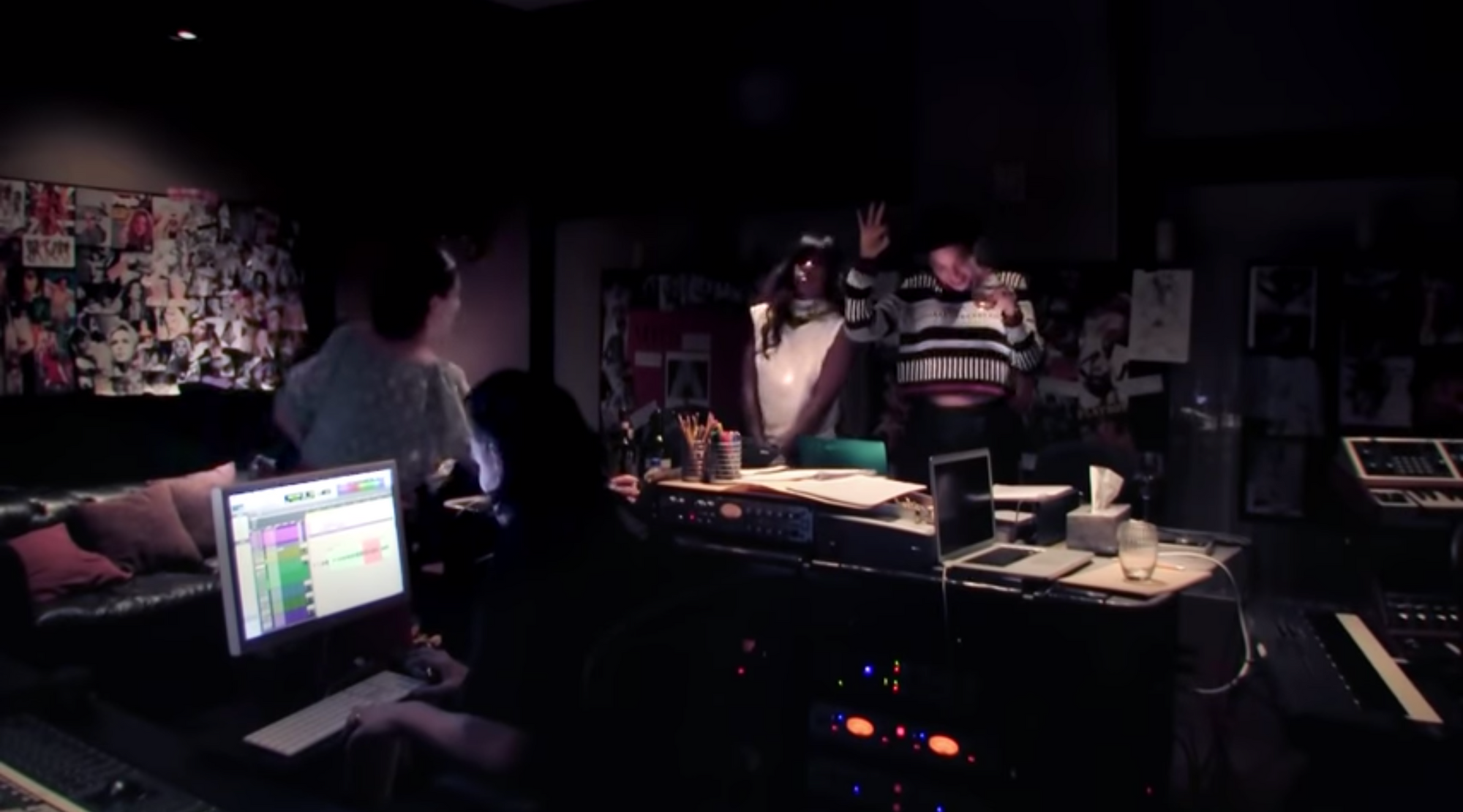 V: FORERUNNERS
The panel on the left is not only the most chaotic of the vision boards but the hardest to make out. (It's easier to see the rightmost one here, which appears to be a sort of movement section, perhaps for "Mine.") I think I see Diana Ross (edit: I did). I think I see Madonna, who's all over BEYONCÉ's videos and was named as having inspired the album. I definitely see a topless woman being fondled by a man in a suit (edit: something from this shoot? This shoot?), recalling both "Ghost" and "Partition." But I couldn't actually match any of these photos, so you'll have to let me know whether you can (edit: huge thanks to Claudia for identifying Edie Sedgwick).
There's at least one still here of Prince in Purple Rain (1984). Upon BEYONCÉ's release, he came up quite a bit in relation to both "No Angel" and "Blow," since Beyoncé sings most of the former in falsetto and the latter sounds like one of his songs. (During the Formation World Tour in 2016, she performed a mashup of "Blow" and "Nasty Girl," the best-known song by his protégée group, Vanity 6.)
There were two findings that elicited audible gasps from me. The first is the Spice World (1997) poster, which is on-brand in terms of BEYONCÉ's "girl power" messaging. The second is this promo photo from Britney Spears's Onyx Hotel Tour, which promoted her equivalent horny album, In the Zone (2003). It shares vibes with "Partition," since Britney is dripping in diamonds and posing with a ribbon, but BEYONCÉ was also in part about the darker, more destructive side of fame, and Britney is often considered the poster girl for exactly that. "Pretty Hurts" was inspired by the "sacrifices [Beyoncé] made as a kid, all of the time that [she] lost being on the road and the studios as a child." That sacrifice is framed through beauty pageants, which both Beyoncé and Britney—who has herself been working since childhood—participated in. There's also "Haunted" (including "Ghost"), which is about the "crazy madness" of the music industry. It's interesting that Beyoncé would grab a photo from the Britney era that was cut short by a serious knee injury and her marriage to Kevin Federline, the fallout from which we're still talking about. I'd love to hear what you think, and in the meantime will go finish my draft. ●
Mononym Mythology is a newsletter about mostly pop divas and their (visual) antics. It's totally free, but if you got something out of this instalment, consider buying me a coffee. The best way to support my work otherwise is by sharing it. You can subscribe here, and you can also find me on Twitter and Instagram.